INTRODUCTION
E-commerce is a global phenomenon that is altering the way business is conducted and is driving major shifts in the global economy.
Customers have grown accustomed to researching the products or services they wish to consume online whether it being on Social Media groups, market places or bespoke online shops. For this reason, it is imperative for businesses to properly structure the content of their website, build content that accurately describes their product and company values in a way that is crawlable by search engines so as to enhance the Search Engine Optimisation (SEO) score of their online store.
As mentioned in our previous article e-commerce has helped businesses go beyond their geographical boundaries to reach the remotest parts of the globe. Indeed, by expanding your online business into international markets, you can grow your customer base exponentially as well as generate more income.
E-commerce websites should be dynamic: always adapting to the market demand and customer behavior. The long-term success of an e-commerce website will depend on a dedicated team of employees (the web team) whose sole job is to monitor and adapt the site to changing market conditions. The web team must be multi-skilled; it will typically include programmers, designers, and business managers drawn from marketing, production, and sales support.
This is where choosing a capable e-commerce partner such as Incredible web, being able to build an excellent e-commerce platform, makes a difference.  Let's delve a little deeper into the 4 principles that will define the success of your e-commerce website.
The basic e-commerce website should:
Have the ability to store a large inventory of products and allow customers to quickly find what they are looking for.

Provide a secure server with SSL encryption for transactions, email transmission, and storage

Deliver accurate and direct information to the customer

Accept credit cards and offer automatic, real-time processing.

Allow the customer to leave the site, return at a later time and still find past items in their shopping car

Facilitate cross-selling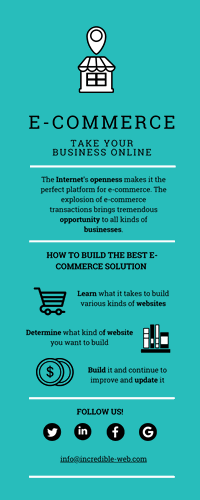 E-commerce solution 
If you want to have a successful web presence, we can help you execute your vision by delivering a customer-centric e-commerce website that will allow you to reach new customers and compete with larger businesses as well as generate more income.
Our e-commerce solutions provide you with all the tools you need to build a full-fledged e-commerce website including a product catalog, intelligent shopping card, dynamic purchasing, discounts, coupons, loyalty schemes, and store credit for your most loyal customers. E-commerce packages of this type enable you to tap into markets you were not able to reach before as well as plan a long-term strategy to retain your customer base and keep consumers coming back.
MINI MARKETS IN THE E-COMMERCE ARENA
As with most businesses, an e-commerce business needs to differentiate itself from the competition. This presents a daunting challenge to most online enterprises; especially those just entering the e-commerce arena such as greengrocers and mini-markets who are just starting to realize the full potential of e-commerce presence for their shop. Smart businesses realize that at least part of the differentiation will come from the quality of service they offer to their customers but also from a fully tested e-commerce website having a green-inspired look, nice pictures, easy access to user's procurement records using interactive graphs and charts, items purchased, and sales costs. 
A successful e-commerce business will adopt good customer service strategies that allow them to build customer loyalty, fulfill a broader range of customer needs, and increase the effectiveness of its sales and services. Every contact a customer has with an e-commerce business, its employees, website, or other business-related services, influences that person's perception of that business — online and offline. The technologies that the Web brings to the forefront present a unique opportunity to create and nurture a special one-on-one relationship with every customer who will increasingly engage with your brand-new user experience. This is why providing exceptional customer service is the best marketing tool a website has that will reduce business costs, tap new markets, and drive additional revenue streams. 
Fostering good customer relations requires a customer service strategy that puts in place policies, services, software, and hardware that make it easy for customers to feel confident when making a purchase online.  The Internet offers several extraordinary marketing techniques for building a strong relationship with customers and for differentiating products and services.
Customer acquisition in eCommerce is defined as the process of acquiring new customers to your online store by using a mix of digital marketing strategies like SEO, PPC, email marketing, content marketing, and other forms of digital advertising strategies, bringing customers from fan acquisition to sales. The acquisition rate helps to measure the percentage of visitors who register or visit product pages (indicating interest in the product).
Acquiring customers is not enough, businesses need to differentiate themselves from the competition and adopt a good customer service strategy based on the quality of service they offer their customers to build customer loyalty. A specialized e-commerce strategy that will help you achieve the superior customer strategy mentioned above is retention: good customer service equals good customer retention and will often result in good word of mouth. 
Customer retention is the crucial phase of the overall customer acquisition strategy. Customer retention techniques for strengthening customer relationships include personalization, one-to-one marketing, and interest-based advertising, customization and customer co-production, and customer service
One of the retention strategies is called personalization (including interest-based advertising, also known as behavioral targeting) and customer service tools. One-to-one marketing (personalization) segments the market on the basis of individuals (not groups), based on a precise and timely understanding of their needs, targeting specific marketing messages to these individuals, and then positioning the product vis-à-vis competitors to be truly unique. One-to-one marketing is the ultimate form of market segmentation, targeting, and positioning—where the segments are individuals.
Now that you know what to look for in an e-commerce platform, let's look at some options you can consider. Here are our top five picks for the best e-commerce platforms in 2020.
The Top 5 E-Commerce Platforms for Small Businesses
Shopify

. Best E-Commerce Platform for Small Businesses

Wix. Best E-Commerce Platform for Startups
Squarespace. Best E-Commerce Platform for Mobile
Magento. Best E-Commerce Platform for Retailers
WooCommerce. Best E-Commerce Platform for Software Integration.
There is no one perfect e-commerce platform, just the solution that will work best for your business. As you're considering your options, cost, scalability, and mobile responsiveness are some of the biggest things you should look for.
If you're interested in expanding your market and enjoy the benefits of an e-commerce platform, do not hesitate to contact us.