"Extraordinary times call for extraordinary measures"
Since last week, given the current circumstances and as a preventive measure, the Incredible Web's team has adapted its way of working and went fully remotely. Although remote working was frequently practiced by some members of the team, this is the first time that the whole team is working in different geographical locations. It's a new challenge for everyone but we have put tools and rituals in place to continue our work efficiently. In this blog, we thought we might share some of the practices we have put in place over the years which have also helped us maintain a reliable level of transparency and productivity with our outsourcing clients.
 Daily Routine
Every day the team gathers in the morning and mid-day for a daily meeting via video conferencing. During this meeting, each member discusses what they have been working yesterday, what they plan to work on today and any obstacles encountered. It makes it possible to see the progress of everyone's work, ask questions if we are stuck on a particular task or require additional feedback.  Moreover, it's important to keep regular communication amongst the team using other tools such as Slack. As it turns out, people are still funny online, even during a global health crisis.
 Tools and Strategy
A development strategy needs to be applied in order to have your team works efficiently and all members of the team are able to reach the desired goals. We have different project management tools to help us such as Trello and Asana to organize our projects and define the priorities of our tasks.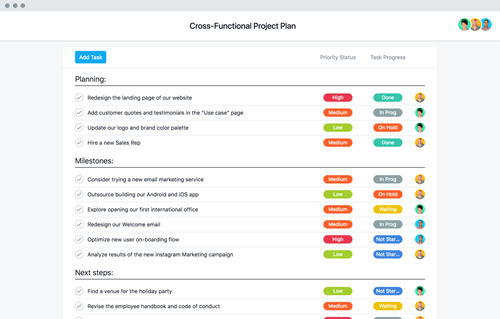 We keep also frequent communication over Slack. As for our Project Management Strategy, our team uses the SCRUM project management framework which is an agile methodology for teams working collaboratively to develop a product. It tackles the product chunks at a time while emphasizing a high-degree of transparency amongst team members. 
"SCRUM focuses on the team's ability to adapt to new requirements while continuously delivering 'complete' micro features."
It's in these particular circumstances one must appreciate the role and importance of technologies in business. It allows us to maintain a certain level of regular routine and stay in touch with our customers and partners.
Some tools we definitely recommend include:
 Remote Outsourcing works
Working remotely has served Incredible Web well over the past years. Some of our long-term Outsourcing clients have opted for remote working as the preferred setup of choice. In 2019 about 50% of all our outsourcing work had taken place remotely, where communication with the client took place over video conferencing and daily standups using tools such as Meister Task, JIRA and Trello. This setup has seen our relationship with customers such as Gaming Innovation Group, House of Jack, Casinomate, Rolla, Dunder, Viks, Scandia Casino grow into a long-term partnership where we were able to deliver a multitude of solutions all through efficient and transparent remote working. 
Final Words
During the Covid-19 outbreak, Incredible Web encourages other companies to do the same: working from home and following the advice of healthcare experts, practicing social distancing. Nowadays, there are many tools and platforms available that allow companies to work remotely and set up virtual office spaces for interaction, calendars, communication, feedback, etc. Work does not need to be done in a specific place to be executed successfully. 
Let's all play a small role in the global recovery from COVID-19 by staying at home.