Windows 10 is finally here and Microsoft have made it the easiest Windows upgrade yet...but should you upgrade immediately or wait and see?
Yesterday we started upgrading some of our workstations onto Windows 10, and since we were running an Windows 8.1 Enterprise edition, we didn't get the cute little Windows button in the system tray; so we downloaded the ISO. Our first attempt went...well, not as expected:
But we tried again from a fresh installation and things got better. We managed to install it in a few minutes, had everything backed up and were soon ready to get back to work. The Windows 10 installation also included a system restore back to Windows 7 (even though we had Windows 8.1) but we haven't tried it yet.
Installing Applications
Getting back to web development was relatively pain-free, Visual Studio works well, IIS too; Spotify is up and running and Photoshop had no issues what so ever. Even Bluetooth devices - which are  usually a huge pain in the ass - worked well.
What did not work, strangely enough was Skype. Installing Skype from the Store gave an error:
Something went wrong. The error code is 0x803F7003, in case you need it.
To fix this, simply run wsreset.exe in the Run (Windows Key + R) command prompt and proceed to download as usual.
Hey Cortana!
Cortana is Microsoft's answer to Google Now and Apple's Siri and has been around for a while on Nokia Lumia devices; however Windows 10 is the first desktop operating system with a digital assistant. It's also pretty effective, and can tell me the weather without having to press a key.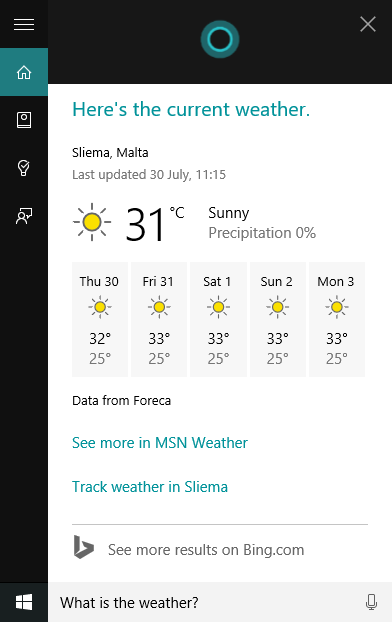 Unfortunately, the "Hey Cortana" comomand doesn't always work (needs to be enabled from Cortana & Search Settings first) which means I have to click on the microphone icon in the task bar, but that's no biggie.
Another drawback is that my wife was already looking at me weird when I speak to my mobile, "OK Google, call the dentist"; now I'm going to start speaking to my computer too. Haha.
The remainder of Windows 10 is also a big step up, performance seems to have improved and the user interface is pretty slick. Thumbs up for that.
Overall the updgrade was relatively stress free and would recommend you to upgrade. Next up is Windows 10 on our Macbooks. :)