e-Commerce for Retail Shops
the Opportunity
With the increase in demand for online shopping, e-Commerce has arguably become a necessity for retailers. Enterprises are seeking to deliver the best service to their customers through a modern and easy to use website as well as a native mobile app.
the Customer
On the other end of the spectrum, the consumer, in recent times, prefer purchasing products online from the comfort of their home because of its efficiency and convenience. That is why, at Incredible Web, we aim at developing features to bring out the best of e-Commerce platforms, driving sales for the businesses, and offering a comfortable and customer-centric platform for the consumer.
When developing an eCommerce platform for Retail shops, the first thing we do is identify the consumer, their typical user journey and the products they would be purchasing from the platform. The next step is to understand the competition and come up with intelligent, innovative features that would help the platform stand out from the rest. Once we fully understand these micro and macro aspects, we propose the most attractive and efficient web or mobile environment needed to attract potential customers to buy your products.
We aim to drive results for your business by delivering a comprehensive, data-driven e-Commerce solution.
The right Tools
We build the website using the open-source Content Management System, Umbraco, which allows you to easily customise and update the content as you deem necessary. Moreover, the platform is hosted on a fully-managed cloud-based solution. In order to help you to manage your business, our e-Commerce backend includes automated inventory management, statistical pattern modules, and intelligent product match-making features. The proposed solution will be tailored to your specific business requirements. On top of that, customers gain the opportunity to learn more about your vision, products, and services.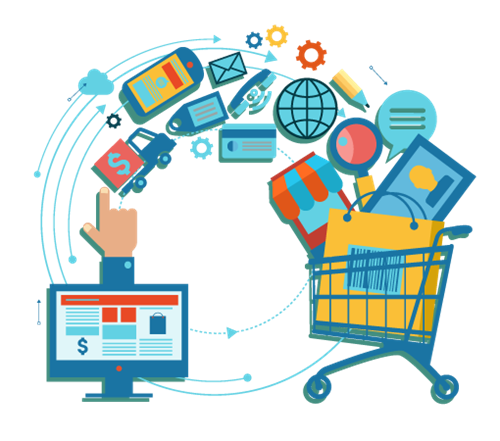 The Innovation
Complementing your website, we may also develop a native mobile application available on both Android and iOS. The app is synchronized with the cloud-based e-commerce platform and uses real-time Push notifications for delivery status and updates.
We make sure that customers can easily navigate the platform with a friendly and customer-centric design. We understand the importance of online shopping in today's markets so we want to deliver the optimal experience for your customers and drive results for your business. For example, the solution can allow the user to mark certain items as favourite items or set up a bulk discount if a pre-defined threshold is reached.
Retention and Sustainability
Finally, our team can improve your customer retention and profitability of your business with intelligent shopping cart suggestions. Moreover, we offer a number of secure electronic payment systems for your e-commerce platform such as a real-time POS system that allows the user to submit orders in person using a Barcode scanner. Obviously, we make sure that all our solutions are PCI compliant.
You can check out some of our success stories here.