G3 Group
Intro
Incredible Web was tasked with the design and development of a superb and easy-to-use website for G3 Group.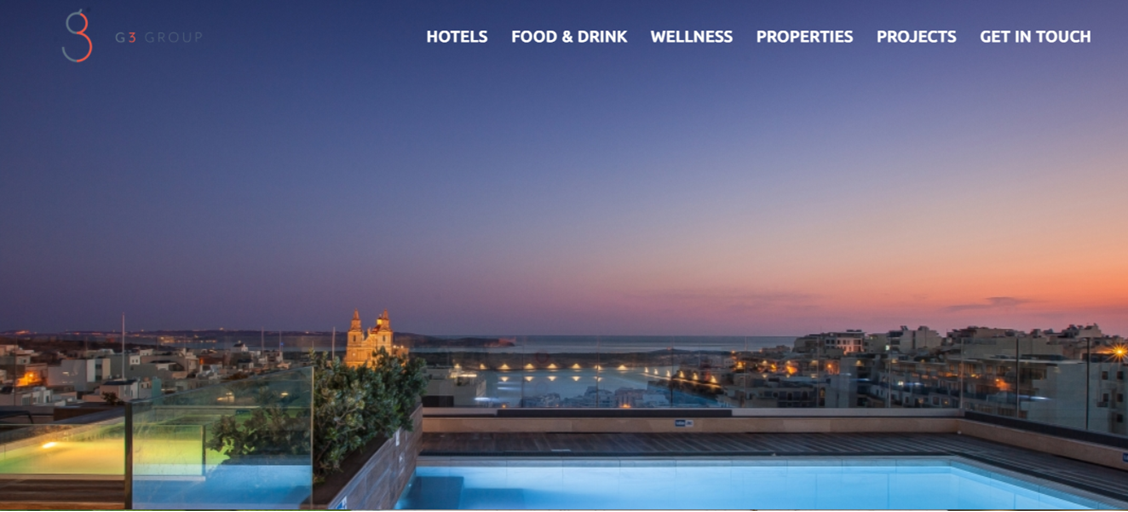 Gr3 Group homepage
G3 Group is a local, family-run business that was opened in 1982 and includes  The Pergola Hotel and Spa and The Solana Hotel and Spa in Mellieha amongst other Restaurants and Spa's in the North of Malta.  Here, they offer their customers a vast array of high-quality services which they have garnered over their many years, which includes two 4-start hotels in the North of Malta, wholesome Mediterranean food in cozy beautifully, designed spaces, amazing spa locations where you can relax your body and soul, properties to purchase your dream home or rental investment and dynamic/. They also have a vast selection of creative projects that see infrastructure in constant evolution. With an attitude of openness to new perspectives, they deliver diversified products responding to customer s needs with high service standards and tailor-made solutions. Incredible Web has recently designed and developed a fantastic website for the G3 Malta group which attracts customers by providing an excellent experience for visitors to find services that they need.
---
solution
DESIGN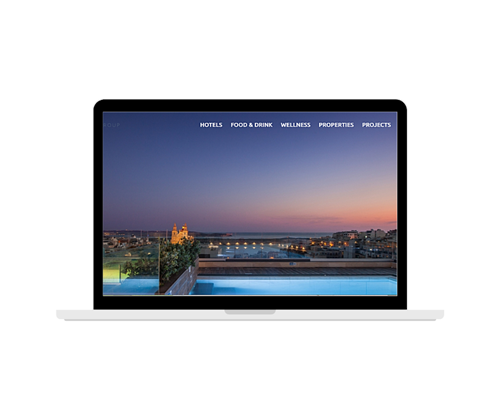 G3 Group on desktop
The Incredible web team is well aware of the fact that a website's product page is the most fundamental page on any custom-built web development solution. So, we created an aesthetically pleasing and functional template for their website design that plays off their logo in terms of its brand colors blue and white ensuring that each client feels their deep care. Smart web design and development combined beauty and function.
User-oriented and conversion-focused, we create innovative and impactful interactive environments that drive results. The design is the digital face of the company. G3 Group is a website showcasing services distinctly representing their brand with an appealing and inviting look. Incredible Web s website includes a lot of features and many more. The experienced team at our web design and development company knows that in order to create a sense of urgency and keep users engaged, they need to include crucial elements such as  UX tricks to create a look-and-feel user interface. Indeed, User experience design (UXD, UED, or XD) is the process of supporting user behavior through usability, usefulness, and desirability provided in the interaction with a product.
---
Main features of g3 group
cms
For the launch of the G3 Group brand, Incredible web utilized UmbracoCMS, an award-winning open-source CMS system powering some of the internet's most influential websites. Using the CMS the G3's system administrators are allowed to update existing content as well as issue directives, notices, and add publications. Indeed, CMS helps users create, manage, and modify content on a website without the need for specialized technical knowledge.
Incredible web is a certified Umbraco Registered Partner and has been developing on the Umbraco platform for the past 10 years designing solutions to streamline eCommerce processes and increase customer productivity. 
The content management system, helped the G3 group to build a website without needing to write the code from scratch. Indeed, instead of building their own system for creating web pages, storing images, and other functions, the content management system handles all that basic infrastructure stuff for the client so can focus on more forward-facing parts of their website.
The biggest advantage is through the two core parts, is therefore easy to maintain the website. 
A content management application (CMA) – this is the part that allows to actually add and manage content on the site 
A content delivery application (CDA) – this is the backend, behind-the-scenes process that takes the content inputted in the CMA, stores it properly, and makes it visible to the visitors.
conversion points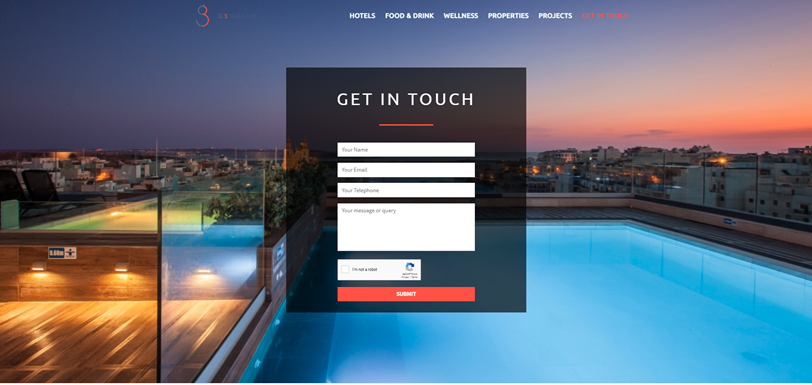 The contact form on the G3 Group website
At Incredible Web we made use of numerous interactive elements in order to highlight and bring to the fore our clients' services related to the design of the restaurants, wellness, and projects. We redesigned the G3 website to optimize for conversions. Indeed, made use of several interactive elements such as filling out a contact form to get in touch with customers through a conversion. A marketing funnel is a step-by-step strategy of guiding the users from the first point of contact with our business to the point of conversion. Indeed, throughout the different stages that lead to the conversion, at first, the consumer discovers the business and its services, then makes his-her own consideration before making a decision to convert or not and eventually at the bottom of the funnel, the customer decides to convert into a loyal customer and advocates even.
A customer journey is an integral part of a conversion funnel. Every visitor s journey begins with users learning about the business, continues with raising their interest and eventually ends with actively engaging with the content. Incredible web is well aware of the fact that mapping touchpoints are the most fundamental step to build brand loyalty and trust. Indeed, with a mapping journey, Incredible web put a lot of emphasis on effective touchpoints to reach their customers and maximize customer retention, which is crucial to growth.
Responsive design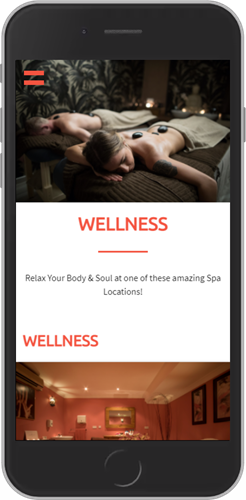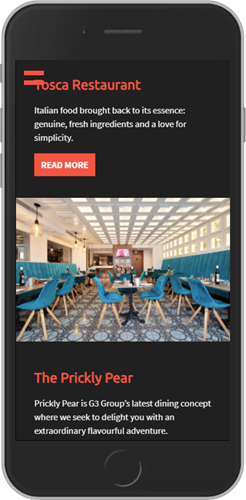 G3 Group on mobile application
The next important section when it comes to website design and development is optimizing the page of the website which works on brand awareness, loyalty, and revenues. Indeed a website that works well on mobile and also adapts itself depending on the screen is one of the selling points of Incredible web to stand out from the crowd ad reach the widest target audience. Also, a search engine adapted to mobile affects the ranking and also the speed of a corporate website., the is not only important to search engines but is also highly valued by internet users. Ideally, a mobile-friendly website should minimize typing, include nice buttons and clear navigation boxes. A slow website is never among the top search engine results.
FLOATING MENU
Incredible web included CSS floating menu bar as a part of the template for the website design for g3 Group that plays off of their logo. Also known as "fixed menus" and "hovering menus", floating menus stay in a fixed position when you scroll the page. They appear to "float" on top of the page as you scroll. Creating a floating menu was very simple and quite painless.
During the design and development stage, Incredible web came up with this useful feature on the G3 group which is a plugin to create and place a unique floating menu on the website.  The extension allowed users to get access to the functions of the panel regardless of its position on the resource. The menu moves along with the scrolling of the page and always remains invisible.
The Float Menu extension created a convenient floating menu for the G3 site. The panel did not take up much of the screen space and is always available to the user. Connecting the tool to a web resource provided an opportunity to increase its usability and attractiveness. The menu is easily customizable for different site themes.
---
RELEASE AND LAUNCH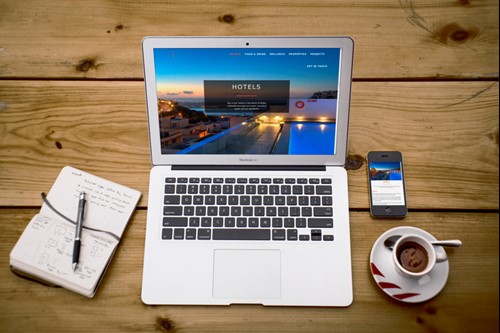 G3 Group website on desktop and mobile application
We at Incredible web focused on loyal customers in order to fight against this competitive era and drive our client to a successful fast-growing business.. With that said, it is important to take guidance from customers on how they want to be involved with the G3 company. With creating a new service, the G3 group had to complete the opportunity to engage their customers and ensure their satisfaction. 
Incredible web has developed and designed a website solution that matched the needs of the G3 Group. Indeed, Incredible web produced an ongoing and reliable website that motivated customers to stay loyal to the business thanks to the positive experience provided by the easy navigation and memorable product feature. Indeed, our team of highly experienced web designers here at Incredible web, have been able to provide the esteemed G3 Group with a pleasant website that brings a high degree of visibility and effectively turns customers into happy, loyal customers.
Not only that, the customers can apply any constructive feedback to improve the G3 services. We place a lot of emphasis on the design of every website for each client.
DO YOU HAVE AN IDEA IN MIND?