GCS Malta (Maltacareers)
Intro
Incredible Web was commissioned with the task to develop and design a fully integrated Recruitment Platform that matches the needs of the GCS Malta Careers.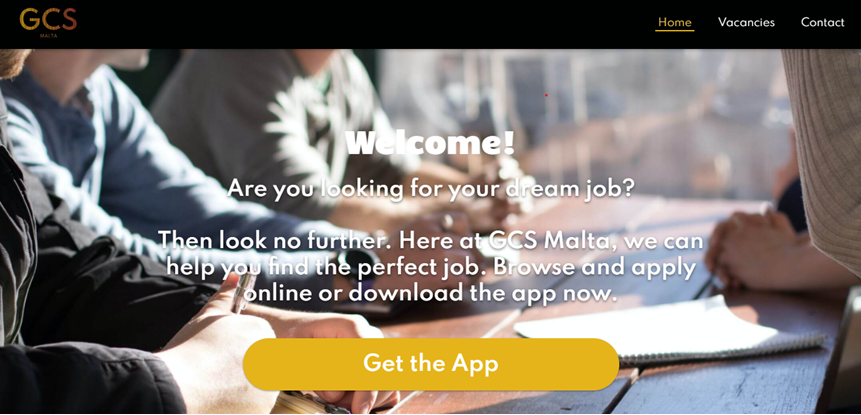 GCS Malta Careers website preview
Incredible web brings a carefully curated public onboarding website solution to the fore in their corporate website development for the GCS Malta careers. GCS Malta is a Maltese-based company with a young qualified team to facilitate Accounting, Auditing, IT, Project Management and Marketing. The group is holding notoriety as the well-established recruitment groups in Malta, formally founded in 2017 to focus on all Accounting and Auditing services, in 2018 GCS Recruitment Malta Limited was established to focus on recruitment needs both for internal and external purposes. With their extensive services and brand on offer,  the corporate service provider Gcs Malta requires a premium website solution, which we at Incredible web have carefully blended into our corporate website development and design strategy for the group. By incorporating fully-fledged Customer relationship management (CRM), we have given the GCS Malta Careers added assurance to interact with customers by studying a large amount of information from a range of different communication channels, including a company's website, telephone, email, live chat, marketing materials and more recently, social media.
SCOPE
Incredible Web is thrilled to produce an ongoing public onboarding website solution for the GCS Malta. The GCS Malta is a long-established and well-recognized Maltese Service Provider that provides a full list of services. By employing our team of highly experienced web designers here at Incredible web, we have been able to provide the esteemed Gcs Malta group with a public onboarding Website solution that brings a 360 recruitment platform a high degree of visibility to the recruitment team and the fantastic quality of opportunities which the groups offer from various industries at different levels.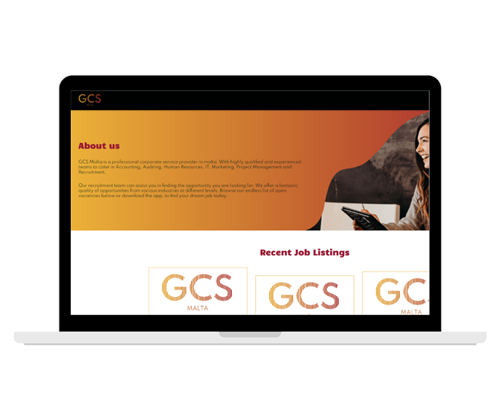 GCS Malta public onboarding website
The clients required an interactive website design and development, tailored to each user with a user onboarding experience that stood out from the other recruiter's agency in Malta. The Onboarding website created by Incredible web is easy to navigate and easy on the eye. With a user onboarding system, guiding users is to find new value in the product. Through this onboarding process, GCS Malta makes sure the job seekers will be successful when applying for a job. With text (headline and sub-headline) and visual parts (images or logo) to show your identity clearly. The homepage should tell the seekers immediately if they have got to the right place. Through recruitment and onboarding, the GCS Malta has to offer a seamless applicant experience from the very touchpoint. From publishing new vacancies right through to onboarding, tacked and managed from a single platform. 
The website user can easily find published vacancies in one streamlined process and easily apply to the published vacancies. Candidates can log in to enter the required information and upload cover letters/CVa and the onboarding tool offers a series of measures to ensure the joining experience is seamless and painless. 
Additionally, the solution will also include a mobile application available on the Android Playstore and Apple Appstore which will allow Job seekers to receive PUSH notifications immediately on their mobile devices. This will increase the Job recruiters outreach as well as significantly decrease the dependence on SMS to issue notices.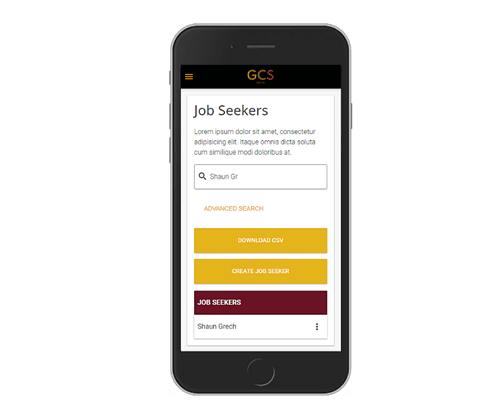 Job seekers on the mobile app       
---
FEATURES
During the website design and development process of the GCS Malta website, Incredible Web introduced a dashboard application with a number of interactive features that made it stand out. Dashboard applications that respond to their user's interactions or complement the user journey with functional yet captivating interaction to keep users engaged and consistently coming back from more. 
The incredible web took the idea of an interactive dashboard to the next level and this would catch the attention of job seekers from the get-go, upon entering the landing page. GCS Malta careers made use of a CRM, contact management system to manage customers and clients. A CRM keeps a better track of the customer interactions and also organizes and manages information about customers. 
The key features of a

CRM

include:
Contact management:

Store customer data including email, phone number, and social media accounts.
Interaction tracking:

Document every interaction that you've had with your customer, including phone calls, support requests, and purchase history.
Email management:

Integrate the email and import it directly into the CRM. GCS Malta is also able to send email campaigns or follow up directly from the CRM.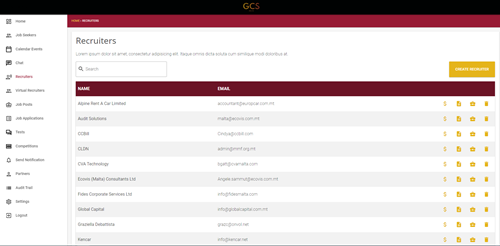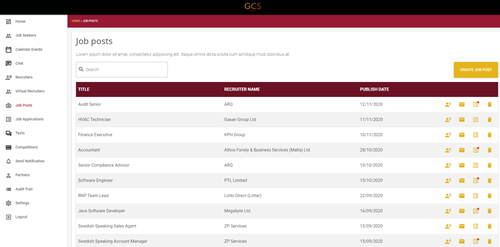 Recruiters dashboard                                                                                                                                                                                              Job posts dashboard
Our development was bespoke, tailor-made for GCS Malta and we committed ourselves to only provide the optimal solution which helped GCS Malta to reach their goals both with a bespoke website and a native mobile application. 
We also made sure that the GCS Malta careers website was user-focused, intuitive, and provided an optimal user experience. Additionally, we have provided the group with an advanced data management technique called Intelligent match search, in which data is searched, indexed and retrieved from a database through a series of artificial-intelligence-based data sorting and matching algorithms. This semantic search tool makes candidate search journeys simple and efficient. Indeed, the job matching algorithm uses hundreds of attributes to identify the companies and positions most compatible with job seekers and send them directly to them through real-time custom Push notifications and delivery updates to keep current employees engaged with internal career sites that match interests and skills to job postings. Moreover, this advanced technology automatically aligns candidates to job roles using soft skills like team building and decision making, providing candidates with inspiring, relevant job recommendations. The overall purpose was to connect with more candidates any time, any place and on any device using recruiting chatbots to share information and automate hiring tasks.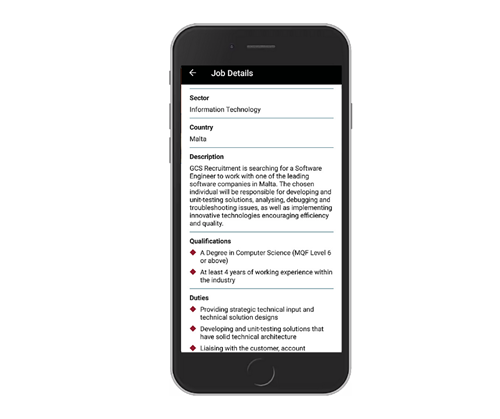 Job details on mobile application
Having an attractively designed and meticulously detailed career page was critical to Gcs Malta's career projecting the appropriate brand image to their website visitors and prospective job applicants. On our public onboarding website, we have designed a vacancies page that is both flexible and appropriately informative., further promoting prospective job seekers to learn more about the vacancies at large. This boosts the GCS Malta possibilities to attract suitable applicants to the range of vacancies which they may advertise at any given time.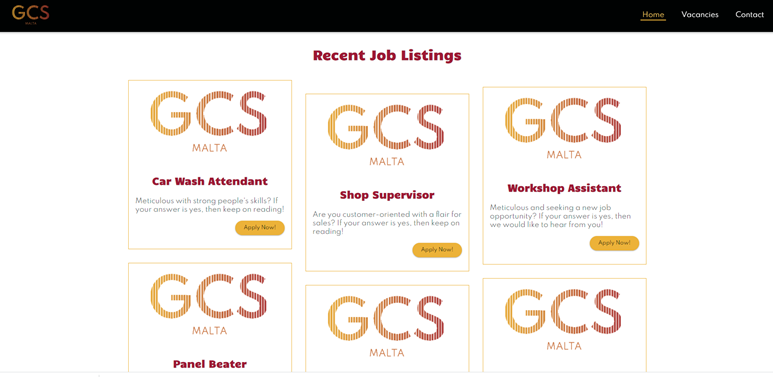 A job listing on the public onboarding website
Having mobile-friendly web development is extremely important to not be penalized by Google but most important to increase brand awareness and build loyalty to receive relevant revenues. Indeed, Incredible web with its team of experts built, designed and published a native mobile application for Gcs Malta available for both Android and IOs that used PUSH notifications, an important technology that aims to send messages even when the customers are not using the app in order to improve the user's experience. Moreover, we synchronized the mobile app with the cloud-based e-commerce platform featuring real-time push notifications and delivery updates for the event schedule interviews.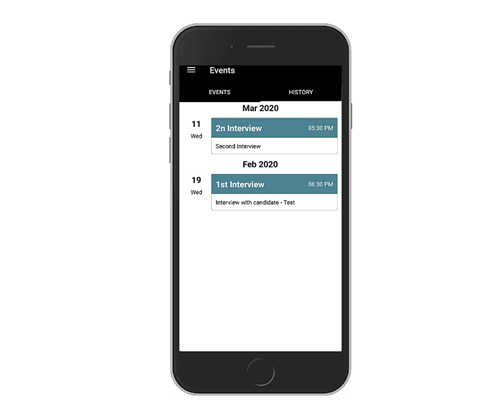 Event schedule interview on mobile application


We made sure that the public onboarding website was adapted to a responsive design depending on the screen. Our team of software developers made sure that the mobile application was scalable and maintainable following 3 major points 
Relevant content

Performance- speed of images

Usability- visitor experience using mobile search results

Layout- easy, minimize typing, nice buttons, clear navigation boxes
Along with a fully functional mobile application, we also made sure that GCS Malta was up to date with the latest trends and customs to be au par with the digital worlds, we wanted our client GCS to increase brand reach and awareness by integrating social media feed to inform customers about their social media presence and therefore, increase engagements.
Another vital aspect of the GCS Malta careers website design and development is the Audit Trail. Security-relevant chronological tracking software that provides documentary evidence of the sequence of activities including the job posting, resume commenting and candidate rating results in proof of compliance and operational integrity.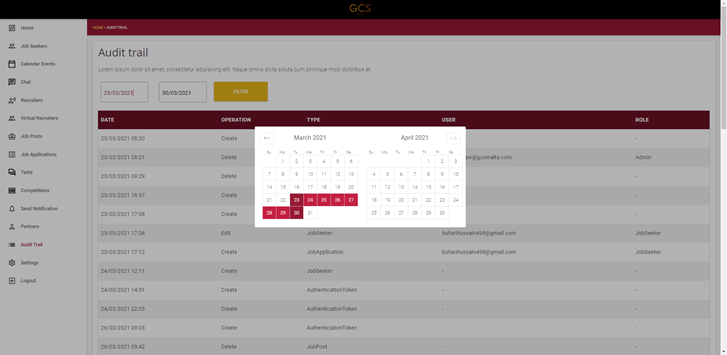 Audit trail GCS Malta Careers desktop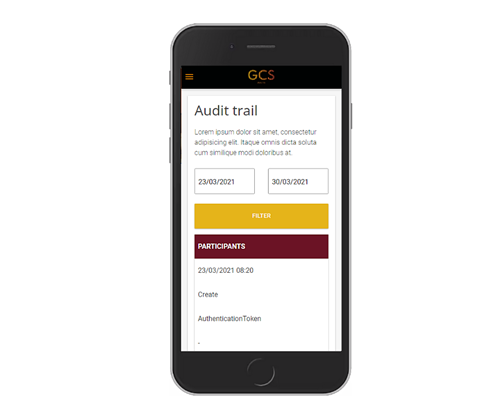 Audit trail on a mobile
Through our knowledge and experience, we developed a versatile and interactive approach which was the key to the GCS Malta onboarding website. That's why we also place an IQ test on a mobile app based on International standards to evaluate comprehensively all left-brain's thinking skills which IQ scores will be directly submitted to the recruiters. 
Hence, our method of developing this website is that we built it in a progressive, interactive way using a Business Process Automation Software adopting modern technologies to attract the best candidates in the digital age. Neverlesstosay, the Robotic Automation is helpful for the recruiters that can actively engage high-value candidates to establish direct contact.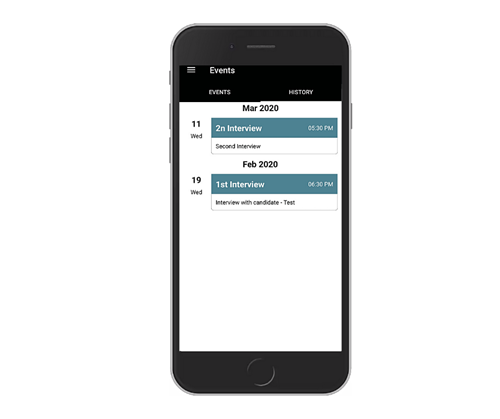 GCS Malta profile on mobile application
Do you have an idea in mind?