Pergola Hotel and Spa
Intro
Incredible Web has redesigned the Pergola Hotel and Spa website to support its services, with the aim of showcasing an elegant corporate website with a sophisticated design as well as an engaging gallery that makes it stand out ahead of itscompetitors.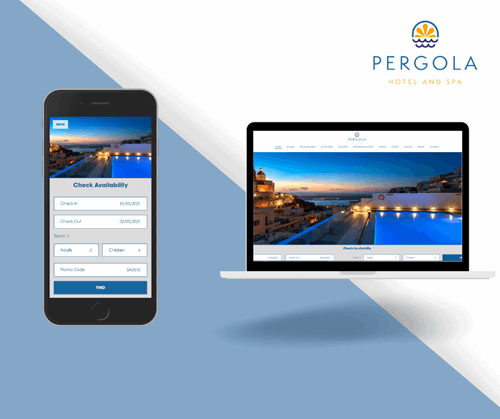 Pergola Hotel and Spa on mobile phone and laptop 
---
Pergola Hotel and Spa is a division of G3 Group together with Solana Hotel and Spa, amongst other Restaurants and Spas in the North of Malta, and is managed by a team of experts in hospitality management who have been providing excellent services for numerous years, developing a style of management that makes the best use of a strong sense of family. This has resulted in the establishment of a stable Industry that believes in trust, autonomy and attention to detail which all the rooms, suites, and deluxe self-catering apartments were meticulously designed to the highest standards both aesthetically, and also in terms of comfort. 
Pergola Hotel and Spa ensures that each guest receives the treatment of wellness and relaxations he deserves by access to the variety of facilities that the Pergola Hotel and Spa offers.
Pergola Hotel and Spa also provides a wealth of different food and beverage to treat the five senses of its customers as well as a dedicated and friendly staff in order to guarantee the best quality service to meet the client's needs by ensuring that their stay will provide a complete sense of detachment from the everyday schedules.
solution
DESIGN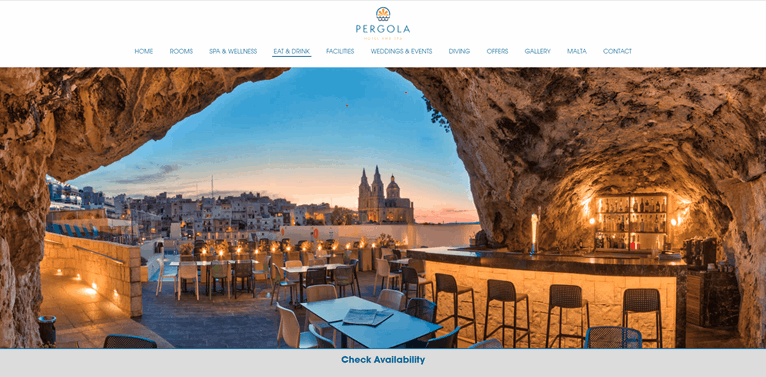 Pergola Hotel and Spa Hotel homepage
The client required a revamp of the Pergola Hotel and Spa website with the goal of improving the design as well as providing a more personalized experience for Pergola Hotel and Spa guests.
When it comes to developing a corporate website, Incredible Web takes a modular approach. This approach includes detailed specifications on the design and development of the website. Indeed, in order to build a successful website based on the Pergola Hotel and Spa needs, Incredible Web developed a website that included basic functionalities and features such as location, prices, services, pictures, and video for the scope of the project. The team did the technical work behind the scenes, building an easy and hassle-free website with the purpose to bring more customers and increase bookings. 
Pergola Hotel and Spa's professional website showcases its facilities and services in a clear and refined way. It was of vital importance that the website we created is easy for visitors to navigate as well as being entertaining to use. This keeps visitors interested and makes them want to book an elegant room from a range of accommodation units or a spa package from the Da Vinci Spa leisure center or last but not least, take a pick from their delicious seafood, pasta favorites, and Maltese fusion cuisine. 
Moreover, Incredible Web, to ensure high quality and timely delivery of the product, we created a set of professional standards for every design to follow. Our UI development service standards are implemented to create a sense of urgency and encourage the user to complete their booking. This is a Ux Trick latest technology employed by major booking engines, such as booking.com.
Our team has created a custom-made design focusing on the layout with a precise structure and design elements, and engaging color with the light background which represents the brand s objectives and quality content to engage customers with captivating stories and the latest updates. 
On mobile devices, the UI will assume the "App Shell Model" with a navigation drawer and main content area similar to that used in native applications. Our aim was to improve the Pergola Hotel and Spa brand's digital experience with a team that establishes a clear design process that gives impactful and innovative user experiences. Therefore, we created a responsive design with visible icons and clear content readable on small screens, crafted to suit our client's needs.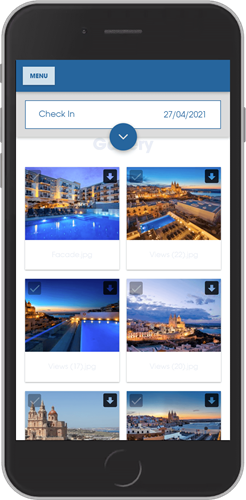 Pergola Hotel and Spa on a mobile device
INFORMATION ARCHITECTURE
Incredible Web created an innovative impactful interactive website for its client Pergola Hotel and Spa following the following aspects
Distinctly represents the brand (Branding)

Website design that looks visually appealing and inviting (Beauty)

User experience: emphasis on bookings (UI/UX)

Real-time booking updates

Conversion buttons for users to book (Function)
In order to execute the desired user experience, Incredible Web developed a specific architecture for Pergola Hotel and Spa according to the requirements and accomplishments of its clients. As a part of web design and development, Incredible Web created every page of the website with captivating text, headlines, sensational pictures assembled in the relevant gallery with proper hyperlinks, and interactions points with guests through the contact form, maps, and a specific booking structure that welcome guests back, control guests flow and easily deliver the hospitality. The overall purpose of this project was through a smart web design that combined beauty and function, to increase the share of direct bookings via the Pergola Hotel and Spa website, helping them reduce their dependencies on other 3rd party booking engines such as Booking.com. The integration of a real-time booking system, enabled Pergola Hotel and Spa to accept bookings online, connecting to their calendar and reading their busy time in real-time. This means that when someone wants to book a room, a dinner in the restaurant or a spa treatment within the hotel, the availability that will be displayed will be real-time availability. The system allows the Pergola Hotel and Spa to work in appointment mode which means that people will select a single time and the appointment will be automatically booked in their calendar. Alternatively, the Meeting mode means that people will select a few times and the hotel will pick the best one and schedule. Regardless of the mode in which Pergola Hotel and Spa works, it is very easy to use for the hotel but also for their guests.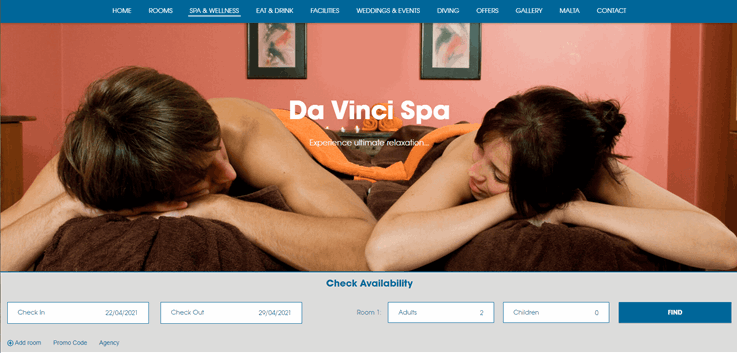 Spa Bookings
The web design is a representation of the company as a whole, Therefore, besides being user-oriented, the corporate website is also conversion-focused, in the sense that includes conversions buttons such as - contact us- or -talk to us on Facebook- and find- to drive users to book a perfect accommodation to enhance their stay in Malta, a lavish spa package that heals the whole body or eventually finds tasty menu dining at various restaurants that Pergola Hotel and Spa offers.
RELEASE AND LAUNCH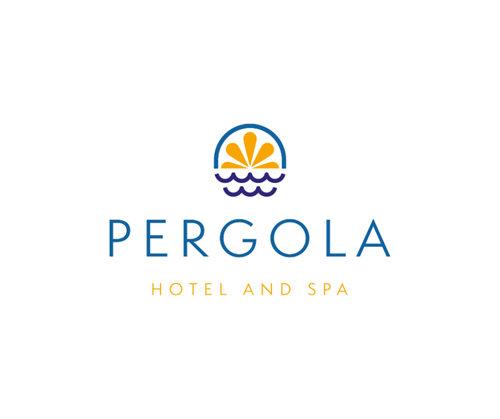 Pergola Hotel and Spa Logo
Incredible Web has created an eye-catching website and best-in-class solutions including brilliant design and developed interactive environments which give impactful and innovative user experiences. Our team of experts did everything necessary to bring a successful website to life, creating a smart interface to relate with guests, identify their needs to enhance their experience for Pergola Hotel and Spa brand. 
The website is a crucial customer touchpoint as a deciding factor for consumers along their journey from discovering the Pergola Hotel and Spa brand to becoming loyal customers. In light of this, Incredible web-optimized the website, creating a reliable and effective touchpoint for the guests who visit the website. Finally, guests can rate their experience in TripAdvisor and post specific information on comments about their stay and the services provided.
DO YOU HAVE AN IDEA IN MIND?