INTRODUCTION
Despite the Covid-19 crisis, E-commerce has been on a steady growth trajectory upon which businesses are able to reach new customers on a global basis keeping them competitive in the market. The term eCommerce has now grown to include online shopping, automated exchanges between companies, purchases made via a mobile application (in-app purchases) or even renting a movie on our cloud-connected TV. It has changed the way we do business and transformed the business-consumer culture for good.
"Ecommerce isn't the cherry on the cake, it's the new cake"
Jean Paul Ago CEO L'Oreal
The incredible growth of e-commerce has leveled up the playing field in such a way that even a small start-up is able to compete with well-established businesses and reputable brands. In this article, we will explore how e-commerce could make life far more convenient for our consumers and create all kinds of new opportunities for various businesses.
As mentioned in our previous article e-commerce has developed tremendously in the last two decades. Indeed, millions of people purchase via the Internet every day, with a significant number of users doing their shopping online at least twice a week. Speaking from personal experience, Incredible Web has seen a 40% increase in eCommerce platform demand over the past 12 months. There is no geographical limitation and businesses can sell their products or services across the world at any time. Before moving forward, in order to not get lost, companies need to have the appropriate technical knowledge and an understanding of the ins-and-outs of e-commerce. Moreover, it is crucial for businesses to have a clear idea of the time, effort, and money they should invest in order to have a viable e-commerce site that will produce a reasonable return.
Planning an eCommerce Platform:
Identify how your new Website will help your business.

Determine what kind of website you want to build.

Design and Develop the website with your trusted partner.

Measure and Improve.
A successful e-commerce business requires a well-coordinated plan that takes into account, among many other elements, design competency, programming abilities (transactional and database), server configuration, public relations, as well as sales and marketing abilities. This is where an experienced eCommerce partner comes in handy. A partner that can help you design, build and launch a competitive e-commerce solution to the market leveraging cutting-edge technologies such as progressive websites, intuitive navigation, an easy-to-use process for ordering and fulfillment, and maintaining a high standard of quality control. Your eCommerce technical partner should first understand your business, typical customers, and what makes you stand out from the competition.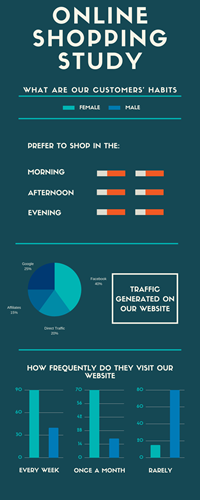 Infographics showing how we conduct online shopping studies
E-COMMERCE SOLUTION FOR YOUR BUSINESS
The Web, taken as a whole, is a powerful medium where consumers browse, research, compare, and then buy online, becoming a common shopping venue for the average consumer. Online sales are still growing impressively.
According to studies, in the U.S online sales were up nearly 50 percent compared with the year before. (U.S Forrest Research, 2002) In fact, numerous experts predict that Internet shopping is likely to continue to outgrow brick-and-mortar sales for the foreseeable future because consumers are recognizing and exploiting the benefits of Web shopping. Despite a challenging year for retail in 2020,  the worldwide retail e-commerce sales grew 27.6% for the year, for a total of $4.280 trillion. This represents a substantial uptick from our mid-pandemic assessment of 16.5% growth. In the table below we can see an  update overall retail sales with which countries and regions stood out in 2020
The statistics about e-commerce shopping behaviors are incredibly revealing: 32 national markets ended up with at least double-digit e-commerce growth in 2020. Latin America saw an abnormal standout growth (36.7%), despite suffering worse-than-average declines in overall retail sales (3.4% drop). Argentina's retail e-commerce grew by an astounding 79.0% last year, a figure approached only by Singapore's 71.1%. China will continue to lead the world in digital buyers in 2021 with 792.5 million (33.3% of the global total).
The incredible Web onboarding team helps you reach new heights by identifying the features your eCommerce website should have in order to increase sales and drive revenues for your business.
Our e-commerce solutions include the following features:
Intelligent shopping cart 

suggestions

User-Centric web designs

Quick Payments using PayPal or VISA

Vouchers and Discount for your customers
The Incredible web onboarding team combines cutting-edge technologies with e-commerce solutions like in the case of Pizza4U, a comprehensive and fully-managed e-commerce solution including an e-commerce website, a POS solution and two native mobile applications.
Our web development is bespoke and tailor-made for each client to provide a beautifully crafted eCommerce website that is easy and quick to use. As a matter of fact, our favorite flavor of web development is the design and development of e-commerce websites and mobile applications because they provide you with a measurable metric of your success (sales). 
Typical e-commerce solution table
If you're interested in expanding your market and enjoy the benefits of an e-commerce platform, do not hesitate to contact us.